Boch Exotic Storage and Maintenance
Boch Exotic works very hard to provide a complete service experience. With the open driving season coming to a end, it is time to arrange for proper care and storage of your vehicle. We consider secured storage of your vehicle to be an important part of our overall service. We are able to store any car, and motorcycle.
Call 866-785-8862 for all your Performance Service needs, or use the contact form to the right.
Boch Exotic's Storage and Maintenance Facility
Only $450 / month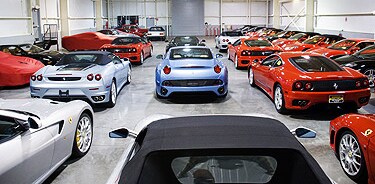 Climate Controlled Year-Round Storage Facility
24-hour security guard assisted by an elaborate surveillance system
Full-time battery and tire maintenance
Tires filled with Nitrogen upon request
All makes and models welcome
Only 24 hours notice to have your car fully detailed and ready to go
All service needs can be performed while your car is in storage
Plus your vehicle receives a full detail when spring arrives. As a great 
Performance dealer
 in New England, we are able to perform all your service needs throughout the off- season. Your vehicle leaves our care rested, and ready to enjoy the open road.